Cet article est un article Reconditionné Certifié




Un produit Reconditionné Certifié a été testé et certifié par le fabricant ou par un vendeur tiers pour se présenter et fonctionner comme un produit neuf, avec des rayures mineures sur l'estetique. Le processus de reconditionnement inclut des tests de fonctionnalité, une inspection, une remise en état et un nouvel emballage. Le produit est livré avec les accessoires pertinents et bénéficie d'une garantie de 90 jours minimum, et peut arriver dans une boîte générique brune ou blanche. Les accessoires peuvent être génériques et pas directement du fabricant.




Reconditionné, professionnel en bonne condition physique

Intel Core i7-6820HQ 2.7Ghz
(6ieme generation)


16GB RAM (option 32GB)




Backlit Keyboard




256GB SSD




Nvidia Quadro M3000M




Video Card 4GB




17.3" LED FULL HD


HDMI - USB 3.0​
Windows 10 Pro
Available with Windows 10 - a wide range of seamless computer options.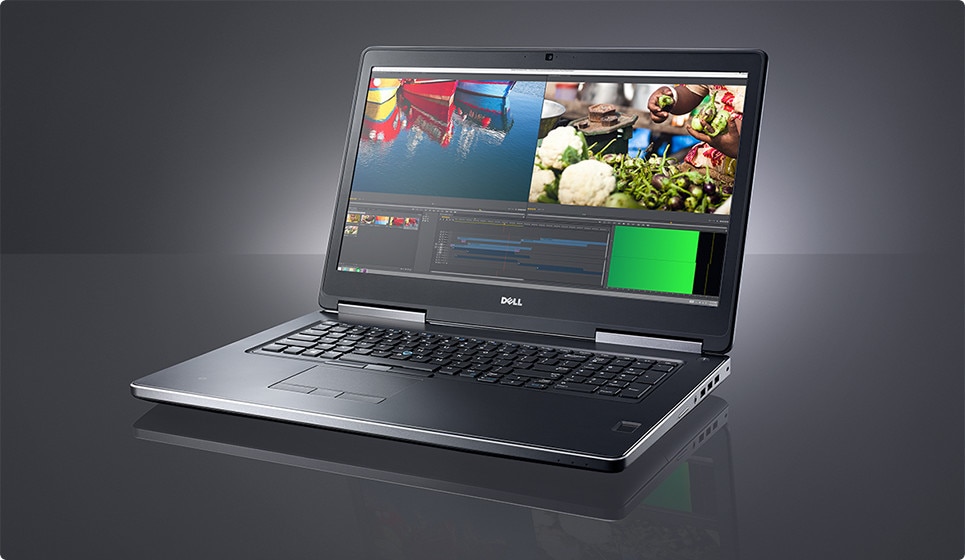 It looks as good as it works.
Incredible design: With a redesigned chassis made of premium materials and a beautiful 4K Ultra HD display and more than 8 million pixels - which is 3 million more than the Retina display - you can view your work in stunning detail.

Extreme processors: no job is too big. The Precision 17 7000 Series provides uncompromising processing capabilities with a powerful Intel® Core ™ i5 and i7 sixth-generation processor and the world's first Intel® Xeon® processor.

High-performance graphics: Offer fast AMD FirePro ™ and NVIDIA Quadro® graphics cards with up to 4 GB * of GDDR5 memory to keep up with the demands of 3D rendering and other graphics-intensive tasks.

Maximum reliability: Tested, optimized and certified by professional software applications and support options with top resolution time.
Excellent comfort, speed and storage capacity
With icy calm

The revolutionary cooling system in notebooks brings performance and comfort to previously unknown heights. Even your graphics- and CPU-intensive applications will be able to afford to go full speed.

Large storage for large tasks

Easy storage, data transfer and access to complex 3D, multimedia and video projects thanks to the speed and reliability of PCIe NVMe SSD storage. In addition, thanks to up to 4TB of total storage, you get a durable space for your data.

Innovative and durable design
Solid materials: The redesigned chassis has been tested to MIL-STD 810 G, ensuring durability and reliability wherever your work takes you.

Mobility innovation: Thinner and lighter than its predecessor, this device now makes it even easier to store and transport your mobile workstation.

Improved docking: Make it easier to use Dell E-dock peripherals and displays, or use the Dell Thunderbolt dok (available in 2016) for faster data transfers and support for up to five Full HD displays or 2 4K displays and five other peripherals .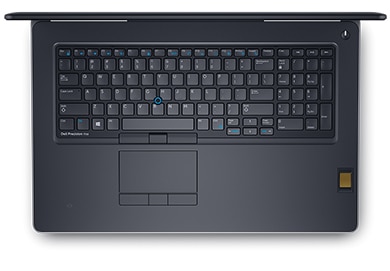 Ports and slots
1. Memory card reader | 2. Headphone jack | 3. USB 3.0 port | 4. Security lock 5. RJ45 | 6. Power adapter port 7. USB-C port (optional) | 8. HDMI port | 9. Mini DisplayPort Connector | 10. USB 3.0 interface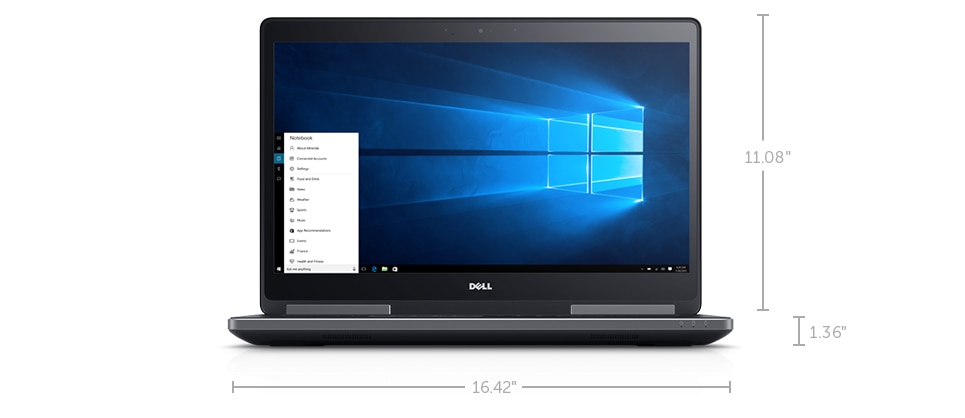 Dimensions and weight (non-contact version)
Height: (front) 1.12 inches (28.5 mm), height: (rear) 1.36 inches (34.49 mm) | width: 16.42 inches (417.04 mm) depth: 11.08 inches (281.44 mm) weight: from 7.55 lbs (3.42 kg)