13.3-inch LED-backlit glossy widescreen display, 1280-by-800 resolution

Core i5 2.5Ghz
8x double-layer SuperDrive (DVD±R DL/DVD±RW/CD-RW)
Intel HD Graphics 4000
WIFI - WEBCAM

The inside story. And the outside story, too.
You can't take your eyes off the amazing MacBook Pro at the very first
glance. The unibody aluminum case delivers aesthetic pleasure and
extraordinary durability. With its LED-backlit display, Multi-Touch
trackpad and powerful connectivity, you can breeze through daily tasks
elegantly.

Strength. Lightness. Beauty. Seamlessly integrated.
MacBook Pro is machined from a single piece of aluminum, an engineering breakthrough that replaced many parts with just one. It's called the unibody.
And the first time you pick up a MacBook Pro you'll notice the difference it
makes. The entire enclosure is thinner and lighter than other notebooks.
It looks polished and refined. And it feels strong and durable — perfect
for life inside (and outside) your briefcase or backpack.

A display full of bright ideas.
Everything Apple designers and engineers do, they do for a reason.
They chose LED backlight technology for the MacBook Pro because it
makes the display instantly bright and allows it to be incredibly thin.
They used edge-to-edge glass not just because it looks beautiful, but
because it lends structure to the display. And at the top of the screen
they hid the built-in FaceTime HD camera. So you see your friends and
family in big, beautiful widescreen — and as little of the camera as possible.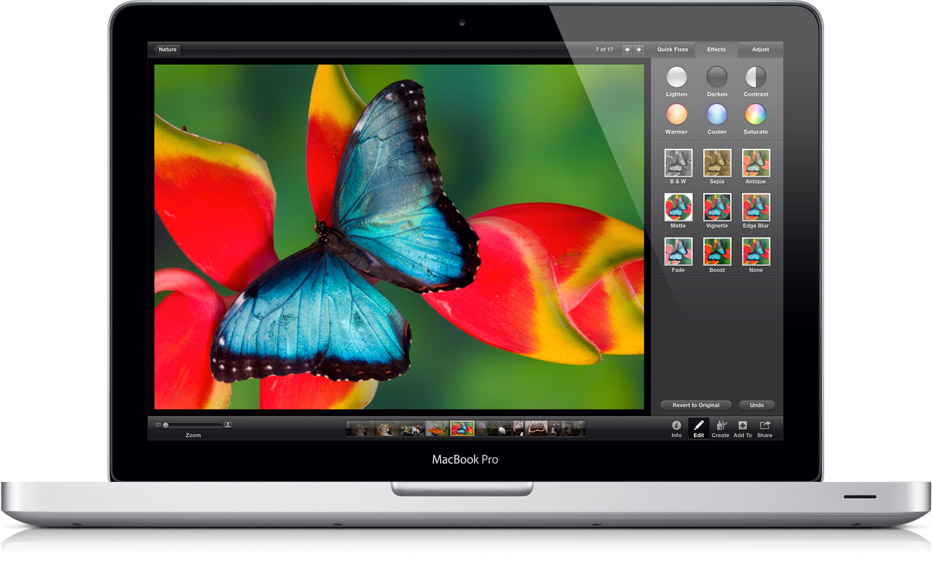 Multi-Touch trackpad. It just feels right.
The Multi-Touch trackpad has no button because it is the button. That
means there's more room to track and more room to click — left, right,
center, and everywhere in between. Apple designers and engineers spent countless hours considering things like sensitivity (how much pressure triggers a click?), audio feedback (what does the click sound like?), and friction over the smooth glass surface (what does it feel like?). The result is atrackpad that just makes sense to you — and your fingers.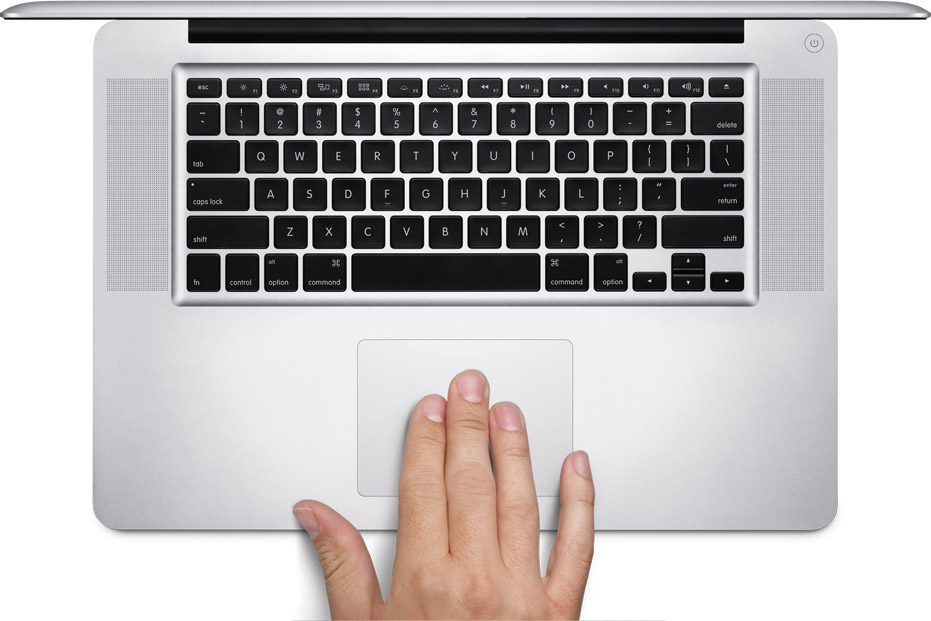 Plenty of ways to plug in.
With MagSafe power, Gigabit Ethernet, FireWire 800, Thunderbolt, USB 3, SDXC, and audio in/out, MacBook Pro gives you just about every connection and port you might need.

MagSafe Power Adapter
The power cord is held in place magnetically, so if someone should trip
over it, the cord disconnects harmlessly and your MacBook Pro stays put
safely.
Thunderbolt Port
Thunderbolt lets you connect high-performance devices and high-resolution displays, like the Apple Thunderbolt Display. Mini DisplayPort devices also plug right in. And VGA, DVI, dual-link DVI, and HDMI devices can be
connected using adapters (sold separately).

FaceTime HD Camera
The FaceTime HD camera built into the MacBook Pro display lets you make FaceTime video calls in 720p resolution.

Magnetic Latch
Because the magnetic latch has no moving parts to snag, jam, or break, even opening and closing your MacBook Pro is a pleasure.